Dr. Shammaie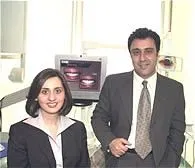 Dr. Shammaie graduated from USC in 1996. Prior to studying at Dental School, he attended CSU, Long Beach and earned a B.S in Electrical Engineering. Dr. Shammaie has been practicing for over 11 years. He has been in his current location for 7 years. Since he began practicing dentistry, Dr. Shammaie has kept up to date on many continuing educational classes, ensuring that his patients receive the most comprehensive and advanced dental care. Some of the post graduation courses that he has taken are:
1) One year residency in cosmetic dentistry @ Esthetics Professionals
Topics including: Smile design and evaluation, Press veneers vs
conventional veneers, Porcelain inlays and onlays and Bondings
Metal free restorations, lava and procera crowns and bridges.
2)One year residency in occlusion and full mouth reconstruction
Full mouth reconstruction and rehabilitation of worn dentition,
tmj evaluation and non surgical treatment of bruxism, Implant retained over-dentures
3)Invisalign training and certification of One & Two
4)Over 100 units of classes in implant placement and restoration
5)Over 50 units of post graduation courses in surgical and non-surgical periodontal disease treatment. Topics including bone graft, socket graft, placement of anti microbial medication.
Dr Shammaie is a member of the following organizations:
AACD(American academy of cosmetic dentistry)
ICOI(International congress of oral implantology)
AAID(American Academy of Implant Dentistry)
California Implant Institute
*Dr Shammaie is not seeing patients presently due to disability.