Our Technology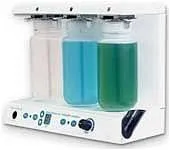 Los Angeles cosmetic & implant dentistry

Woodside Dental Located in Westwood Village Near UCLA 310-824-0055
The Pro-Select³ is a state-of-the-art scaler that significantly reduces the need for hand instrumentation,
plus an irrigation system, in one compact unit. Pro-Select³ Periodontal Therapy Systems provide
a 3-step approach to the prevention, treatment and control of periodontal disease by combining ultrasonics,
ultrasonics with medicaments and heated sub gingival irrigation.
This closed, multi-fluid system offers choices of purified water, antimicrobials, disinfectants, and desensitizing solutions.
Pro-Select³ combines the most advanced piezo-ultrasonic technology
with a heated irrigation system that effectively delivers solutions... in one compact unit.
It accomplishes gross scaling to definitive periodontal debridement... with total patient comfort.



Components
Computerized control unit
Designer UV dust cover
Autoclavable scaler handpiece with cassette
Autoclavable heated irrigator hand piece with cassette
Power transformer
4 autoclavable solution bottles
Woodside Dental Located in the corner of Westwood & Wilshire Blvd
_Call Your Los Angeles Dentist @ 310-824-0055 to make an appointment today